インフォメーション
Click Here! --> ENGLISH Short NEW's (july 2018)
Meguro UNESCO Lecture Series "Thinking about the Essence of Culture
"
Sponsor: Meguro Board of Education Organizer: NPO Meguro UNESCO Association
Lecturer: Noriaki Sagara (President of Meguro UNESCO Association)
Date: 13:30-15:30 Sat., 24th March 2018 Place: Seishonen Plaza 6F (Nakameguro Square)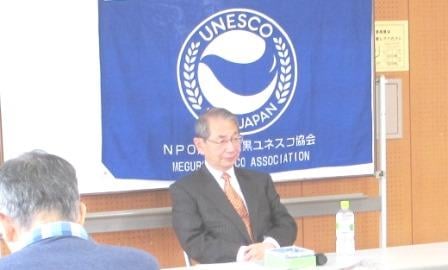 What is culture? Professor Sagara quoted the definition by the linguist Haruhiko Kindaichi: "Just as each person has a unique personality, so does a society. The unique personality of a society is called culture." He added that culture has no superiority or inferiority. Also, culture is not something we are born with, but rather something we develop. He also brought up another question: do animals, like humans, have a culture? We learned that Cultural Anthropologists around the world are now researching monkeys at Kyoto University's Wildlife Research Center, located on Koshima Island, Miyazaki Prefecture. There, many years ago, a monkey was observed washing a sweet potato with sea water. This behavior spread to the other monkeys, and continues even today. There are different opinions as to whether animals can have culture.
What about cultural identity? Westerners, for instance, criticize whaling by the Japanese as barbarous, but there is actually no clear answer to why whaling is barbarous, and fox hunting is not. There are no universal rules to govern the relativity of cultures. What is dangerous, Prof. Sagara noted, is that this can be a source of conflict when morals and values from different societies are incompatible. The lecturer concluded with the remark that if we all understand and respect the culture of others, the people in the world will naturally aim for peace.
- written by Mineko Yamada (Publicity)
and translated by Mikiko Takeda
Reports and Thanks for the Used Postcard Collection Campaign in 2017
Sponsor: NPO Meguro UNESCO Association
Joint sponsorship: National Federation of UNESCO Associations in Japan
Supporters: Meguro Board of Education and Meguro International Friendship Association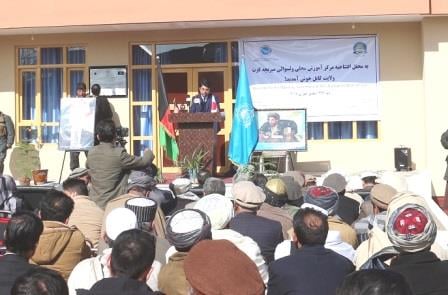 Every year, at the time of New Year when New Year's cards are exchanged, the "World Terakoya (School) Action: Used Postcard Collection Campaign" is conducted by the Japan UNESCO Association Federation. Again, this year, the Meguro UNESCO Association carried out the campaign supported by Meguro Ward, Board of Education in Meguro and MIFA.A total of 7,638 postcards were collected this year from elementary and junior high schools and individuals in Meguro. We even received postcards from a junior high school in Iga city in distant Shiga Prefecture. The postcards will be exchanged for stamps at the post office and will be used for the construction of schools in developing countries through the Japan UNESCO Association Federation. It is said that one in six people in the world cannot read or write. Constructing a place of learning could make big dreams and new hopes for such people. I think that it is one of the most important activities of the Meguro UNESCO Association to know that there are people still having various problems in the world and to support them. I hope to continue receiving your assistance.I wish to thank those who offered postcards and also the volunteers who collected the postcards and counted them during the cold weather. Thank you very much for your cooperation.
- written by Mitsuko Kato and translated
by Cris Mizue
Photo: School opening ceremony in Afghanistan
Meguro UNESCO Concert 2018
The annual Meguro UNESCO Concert at Meguro Persimmon Hall was held on 27th May 2018, and a trio performance of Nobuya Sugawa, saxophone, Ai Okumura, violin, and Minako Koyanagi, piano, was a huge success. The ensemble was talented, and the saxophone played by Nobuya Sugawa, a globally successful saxophone player, particularly charmed the audience.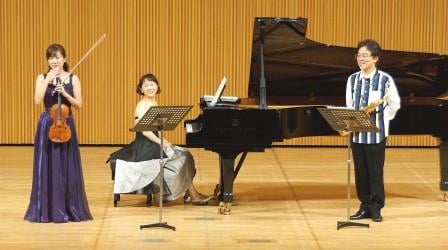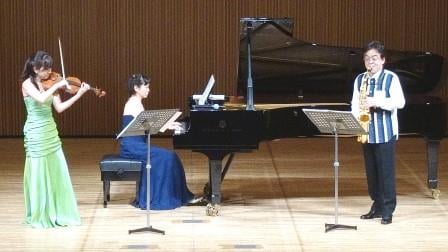 ---