インフォメーション
Click Here! --> ENGLISH Short NEW's
ENGLISH Short NEW's (March 2020)
6:ENGLISH Short NEW's (March 2020)No,345 - 346 2020.03.18
UNESCO Cultural Lecture
Habsburg Collection: Treasures of the Vienna Museum of Art History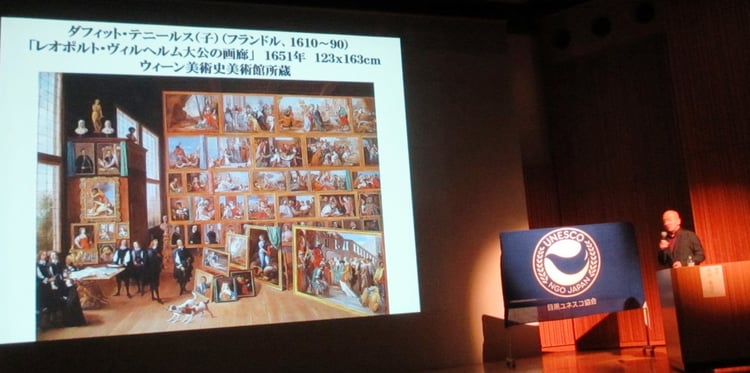 Sponsor: Meguro Board of Education
Supervisor: NPO Meguro UNESCO Association
Presenter: Taiji Kimura, Western Art Historian
Date: 13:30~15:30 Thurs., 16th January 2020
Number of Attendee: 149
Venue: Small Hall in Meguro Persimmon Hall
The Vienna Museum of Art History, located in Vienna, Austria, is one of the most important museums worldwide. The museum's primary collections are those of the Habsburgs, containing over 1,000 paintings and art pieces of the European great masters from Renaissance to the 19th century. The collections began in earnest during the Emperor Rudolph II era.
Mr. Kimura selected Raphael's "Madonna del Prato (aka: Madonna del Belvedere)" as an example of classical paintings. The Virgin Mary is dressed in red and blue, symbolizing love and wisdom, respectively. On her side, there is the infant Jesus who is grabbing a cross held by St. John. Mr. Kimura pointed out that the triangle composition was established by Leonardo da Vinci who was 31 years older than Raphael. He stated that instead of viewing paintings with sensitivity, we need knowledge to understand them from a historical background.
He further explained the mythical transformation stories using "Jupiter and Io" and "Plundering Ganymede" by Correggio, the mythical painter. The mythical god Jupiter transforms into an eagle and lets a boy pour a drink, which represents constellation of Aquarius next to Aries. The "Transformation Story" in Latin Literature is an essential culture in the European upper-class society. Mr. Kimura passionately uttered "in order to appreciate art, we need to stop viewing artwork based on our preference, instead we need to learn what is beautiful, and know the historical background. If we do, paintings, architectures, and sculptures will speak to us." Unable to describe all, nonetheless, we would like to express our sincere appreciation to his eye-opening lecture.
- written by Mineko Yamada (Publicity) and translated by Yoko Nakamura
What we found through the UNESCO Children's Festival
Date: 11:00~16:00 Sun., 22nd December 2019 Venue: Small Hall in Meguro Persimmon Hall

I was the host of the 5th UNESCO Children's Festival. It was the first time I participated in the 5th event, and to be honest, I was very worried. But I am sure everyone enjoyed it.
Participants from Japan, Myanmar, Norway, Vietnam, Nepal and Syria performed on stage. I was able to see the unique culture of each country and listen to Japanese drums, piano, violin performance, dance and chorus. Audience enjoyed the dance and music recitals and enjoyed the cultural showcase.
Since this UNESCO Children's Festival has been planned and executed mainly by high school students, I hope that many high school students will continue to be interested in Meguro UNESCO Association, volunteers and overseas in the future.
- written by Mika Suzuki (Kanto International High School 3rd Year)and translated by Cyris Mizue
MEGURO UNESCO NEWYEAR'S PARTY
Jan.18(Sat)12:00~15:00 Lunchroom of Gohongi Elementary School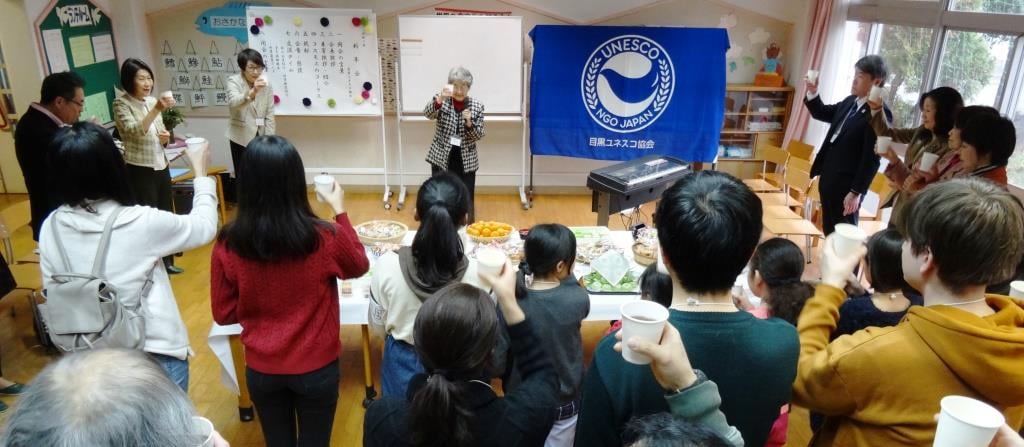 ENGLISH Short NEW's (November 2019)
5:ENGLISH Short NEW's (November 2019)No,342 - 343 2019.11.13
Friendship Salon – Experiencing Tea Ceremony
On June 9th at 2 PM, when we were just about to start our tea ceremony demonstration, a young German man rushed in at the last minute. Upon his arrival, much to our surprise, he took out a worn-out men's kimono and a half-width obi from a large paper bag. He quickly changed his clothes into kimono and sat between other Friendship Members (FMs) who were already seated.
A total of 28 FM people, including a family with children, a couple, and many individual participants, were seated in a large Japanese tatami room on the 5th floor of the Youth Plaza. First of all, they were divided into two groups, and had to wait in a sitting position on cushions on the tatami mat – a painful experience!
After Ms. Soukou Ishihara, the master of tea ceremony, explained tea ceremony manners, we experienced tea rituals, eating seasonal tea confectionary with a toothpick, "Kuromoji," and enjoyed drinking green tea, "Matcha." Although the FMs appeared to be serious and nervous at first, they were more relaxed after tasting tea sweets, and started to express their interest and curiosity. At the end, they were able to make tea by themselves using a tea whisk, "Chasen," and enjoyed drinking "Matcha." The workshop ended at 3:30 PM.
We knew each other only in the classroom during Japanese language classes, but, through this tea ceremony experience, we got to know another side of each other that we do not normally see. It was a fun afternoon, as we were able to develop new friendships and deepen mutual understanding.
- written by Keiko Kajitani (Japanese Language Educational Activities Committee) and translated by Yoko Nakamura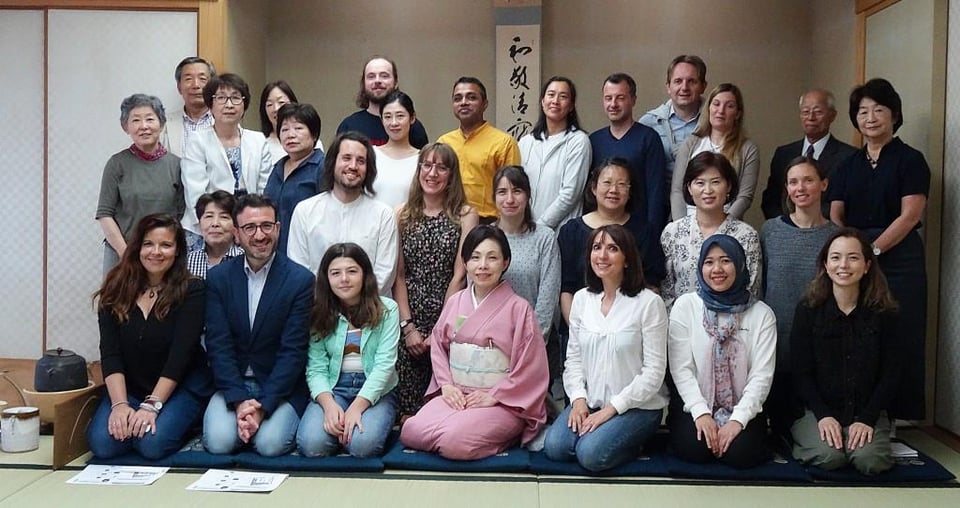 Participating in the 2019 Meguro UNESCO Summer Gathering
August 4 (Sun)-6 (Tue), 2019 YMCA Tozanso
I was able to learn a lot by having a valuable experience this summer, organizing and planning the UNESCO summer camp. I have known about this gathering because I have been participating in this program since I was in the lower grades of elementary school, but this time elementary and junior high school students have been invited to participate. Since I have been planning from the perspective of elementary and junior high school students in various aspects, we didn't organize lectures or convene UNESCO study groups, as in the past. This gathering was designed to give participants a little experience about UNESCO. I hope the participants now know a little more about UNESCO, I was still inexperienced as a staff member and relied on others. If there is an opportunity like this next year, I would like to believe: "Think about myself, move from myself, and acquire the power to move others." Although the first meeting was really good that the children enjoyed the summer, relaxing, chattering a lot and getting to know many others in just three days. There was also a child who was a little shy and was worried, but even she talked to the staff after a while and was able to get into the circle.
In this way, understanding and accepting someone who is different from you, or simply, "making friends" is the best way to make the world peaceful. No one wants to fight with friends, just make friends all over the world. I feel this program is a way to create a peaceful world for everyone.
- written by Reva Watanabe (Youth Member) and translated by Cris Mizue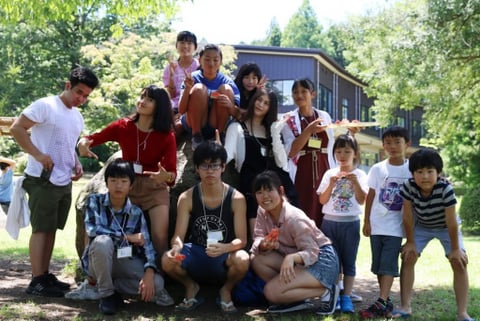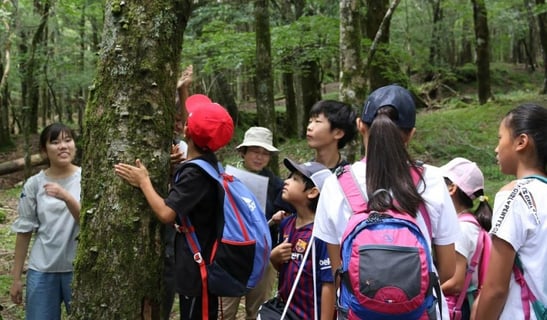 ENGLISH Short NEW's (July 2019)
4:ENGLISH Short NEW's (July 2019)No,339 - 342 2019.3.13
Current Status of Meguro UNESCO Japanese
Language Classes March 18, 2019

Currently, more than 30 volunteers are engaged in running the Meguro UNESCO Japanese Language Classes. There are 181 foreign learners. The number of learners decreased temporarily after the Great East Japan Earthquake eight years ago, but then recovered. The Tokyo Olympic and Paralympic Games next year make Japan more popular and contribute to the increasing trend
of learners.
This is pleasing, but the main venue, Meguro School Support Center, is not able to offer enough room, and some classes rent meeting rooms of the Meguro Kumin Center, which is short distance away. There are six classes according to the degree of progress, but more than 15 people cannot enroll in a class because of capacity, so it is particularly unfortunate to often have to decline an application. Especially the beginner class is always full. In addition, it is necessary to secure teachers, but generational changes make it difficult. So, we are unfortunately forced to close some of the classes. We are working to recruit students who have taken Japanese language training courses, but it would be appreciated if experienced members could also participate.
However, when we see that the learners are studying hard, eagerly and happily without taking a rest, the entire staff gets enthusiasm and works hard.
In the Japanese language classes, we also conduct cultural exchange. 24 learners and staff participated in the Kabuki Appreciation Class at the National Theater in June last year (previously reported). Also, in November and February some 20 learners were invited at Dendo Elementary School in Meguro. In the 1st and 2nd grade classes, they ate school lunch together and interacted with games. Later, I received a letter from the children saying, "Please come again," and everyone was very
happy. Some learners participate in UNESCO concerts, children's festivals, etc. In the future we would like to encourage more learners to participate.
Amidst the various limitations of UNESCO Japanese language classes, we will promote international understanding and international cooperation toward the realization of a peaceful world with the UNESCO spirit, with the aim of helping many foreigners in Japan learn Japanese. We hope that we can make  
further progress step by step.
- Written by Shigeru Tamesue (Japanese Language Board of Education) and translated by Cris Mizue
Meguro UNESCO Charity Concert 2019
Innovative Piano Duo KENBANDANSHI;
Kunihiro Nakamura and Takeshi Oi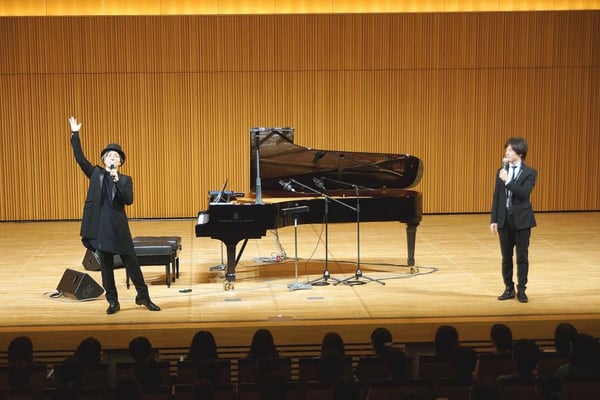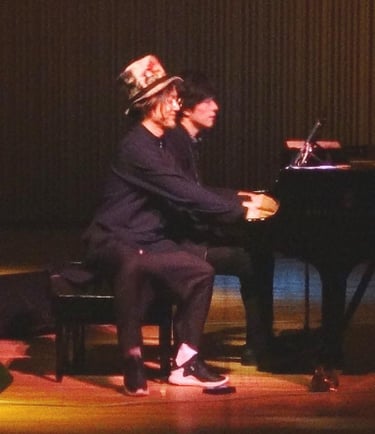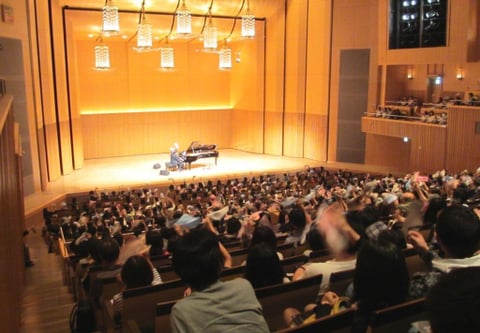 The annual Meguro UNESCO Concert 2019 at Meguro Persimmon Hall was held on 23rd June, and the audience were charmed by exciting performance of the innovative piano duo named KENBANDANSHI; Kunihiro Nakamura and Takashi Oi. They played Bolero, Carmen Fantasy, Rhapsody in Blue, etc.

ENGLISH Short NEW's (March 2019)
3:ENGLISH Short NEW's (March 2019)No,337 - 338 2019.3.13
UNESCO Culture Lecture
Present Condition of Iraqi and Syrian Kids
Sponsor: Meguro Board of Education
Supervisor: NPO Meguro UNESCO Association
Lecturer: Maki Sato (Secretary General of JIM-NET)
Date: 14:00-16:00 Sat., 24th November 2018
Place: Meguro Museum of Art/ District Gallery Art Exhibition
Number of Participants: 38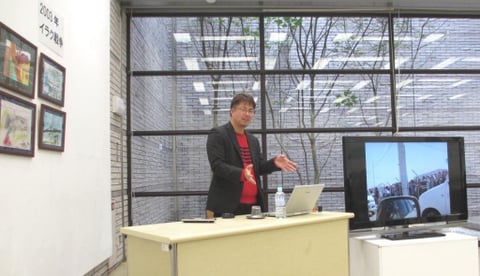 For lecturer Maki Sato, the Iraq War in 2003 was an opportunity for setting up JIM-NET (representative: Makoto Kamata). He has lived in Iraq for the past 15 years and has just returned back to Japan in the end of October 2018.
JIM-NET actively works to support and help pediatric and infant cancer. Many children and refugees in these war-torn regions have been found to have cancer. It is believed that it could be because of the use of uranium and radioactive ammunition, which have been used since the Gulf War. However, due to economic sanctions by the international community, it is very difficult to import anti- cancer drugs into the region.
Mr. Sato has been working with local doctors and relief providers to help and try save the cancer- affected children. Air strikes and raids have destroyed the hospitals and facilities, but he and the team still continue to work to help the refugees.
Mr. Sato also showed pictures of Iraqi children, highlighting their plight. "A Boy in Red Boots" is the picture of a young kid who brought back a red boot from an IS camp. "The Picture of the Wedding Ceremony" shows a girl married off forcibly. "The Picture of a Family" looks like a beautiful picture of a normal family with three kids, but in reality, the kids were taken away and large sums of money were paid to bring the kids back and reunite them with their parents.
Mr. Sato moved the audience with his strong and motivational words. "I am trying to do my best so that these children can spend a happy and joyful life, which they deserve, just like all of us."
- written by Atsuko Shimizu (Public information committee) and translated by Cyris Mizue
Meguro City International Exchange Forum
One-day Bus Tour
Nirayama Reverberatory Furnaces and Mishima Skywalk
Sponsor: Meguro Board of Education
Supervisor: NPO Meguro UNESCO Association
Date: 08:30-18:00 Mon., 22nd October 2018
Number of Participants: 79 (including 28 foreigners)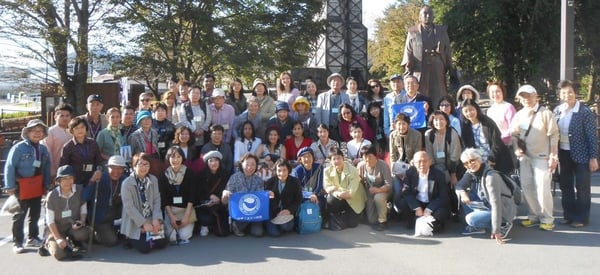 It was clear and sunny from early morning, when the bus left Meguro. As soon as we entered the Metropolitan Expressway, Mr. Fuji, covered with snow, appeared in front of us, and joy broke out. As we reached Hakone and drove down on Tokaido with the cedar trees on the sides, we found "Mishima Skywalk", the longest suspension bridge in Japan, on our side. Looking down from the 400-meter-long and 70-meter-high bridge, the view of Suruga Bay, the green wild forest and the grand Mt. Fuji was splendid. Everyone was busy taking photos and asking others who became newly acquainted on the bus to take photos of themselves.
After lunch, we visited the Nirayama Reverberatory Furnaces, one of the "Sites of Japan's Meiji Industrial Revolution: Iron and Steel, Shipbuilding and Coal Mining" (designated in 2015 as a UNESCO World Heritage Site). It was a cannon factory built by Hidetatsu Egawa and his son Hidetoshi at the end of the Edo period. Having gone through many repairs and restoration, 4 furnaces remain today. At the guidance center we first viewed dynamic images of its structure, and how the melting red pig iron poured into the inside of the furnace to understand the production at that time. We had a more detailed explanation by the tour guide in front of the historical buildings, and everyone paid attention.
Nearby the Furnaces, the Egawa Residence was the residence of the Egawa family who had inherited the post of Daikan (local governor) during the Edo Period, and it is now designated as an Important National Cultural Property. We found an astonishing 12-meter high ceiling as we entered the "Doma (a dirt floor)", and the framework and the structure of roof frames we saw were beautiful and overwhelming.
On the bus on the way home, we enjoyed a quiz featuring UNESCO World Heritage Sites and other activities.
- written by Machiko Tanizawa (Forum) and translated by Mikiko Takeda
ENGLISH Short NEW's (December 2018)
2:ENGLISH Short NEW's (December 2018) No.335-337 2018.12.12
UNESCO Culture Lecture
Why Poland is said to be a pro-Japanese country, 100 years after
it recovered independence
Sponsor: Meguro Board of Education
Supervisor: NPO Meguro UNESCO Association
Lecturer: Maria Zurawska (First Secretary of Polish Embassy /
Director of Public Information and Cultural Center)
Date: 13:30-15:30 Thurs., 27th September 2018
Place: Seishonen-Plaza 6F (Nakameguro Square)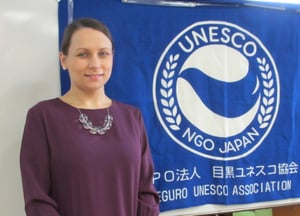 2018 marks 100 years of renewed Polish independence. And in 2019, Japan and Poland will have had diplomatic relations for 100 years. Though Poland's independence from Germany was restored in 1918, the country faced a crisis of persecution by the Soviet Union. Japan, which had just established diplomatic relations in 1919, started humanitarian relief to Poland. From 1920 through 1922, approximately 800 Polish orphans from Siberia went ashore at the Tsuruga, Fukui Port, thanks to the quick help of the Japanese Red Cross Society. They were welcomed and returned to Poland safely. This history is drawn movingly in a Japanese movie "The Autumn of Warsaw." Polish celebrities include John Paul II, Copernicus, Madam Curie, and Andrzej Wajda, but Frederick Chopin is perhaps the most famous in Japan. Ms Zurawska says that both Japan and Poland love Chopin most because the nations have similar sensitivities. Japanese ambassador Chiune Sugihara is also famous in Poland for his "Visas for Life," saving several thousand Lithuanian and Polish Jews during World War II. Certainly, there are others that were not mentioned. After the lecture, participants asked several questions that reflected a profound knowledge of Poland. Finally, doughnut "pączki" with jam, prepared by the staff of the Polish embassy, was presented to all the members. It tasted soft and really delicious.
- written by Mineko Yamada (Publication) and translated by Cris Mizue
Western Japan Floods - Thank you for Your Donation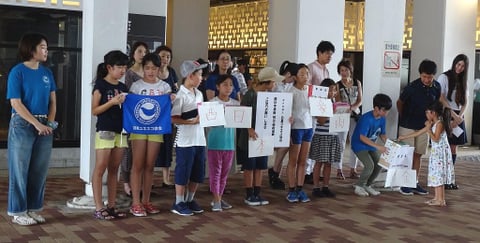 We would like to express our gratitude for your generous donation following the historic rainfall that resulted in devastating floods and landslides in western Japan. We have raised \214,161 in total as of the end July (\62,717 by street fundraising, \151,444 by direct receipt in cash or by transfer). We have delivered your contribution to the Tokyo bureaus of the three prefectures that suffered from the disaster (Okayama, Ehime and Hiroshima Prefectures) by August 3. We would also like to mention that we delivered it with the photos taken at the street fundraising, and they were very pleased with your warm generosity. We sincerely hope that those affected by the tragedy will resume their peaceful lives as soon as possible. Thank you very much.
- written by Mitsuko Kato and translated by Mikiko Takeda
Supporting the Recovery from the Great Eastern Japan Earthquake
MEGURO SUN FESTIVAL "MATSUBATAKE TORA MAI"
Date: 11:00~ Sun. 16th September 2018
Venue: Meguro SUN Festival Dendo Hiroba Park
Performance: Kesennuma Karakuwa Nakai Elementary School - Matsubatake Tora Mai Preservation Society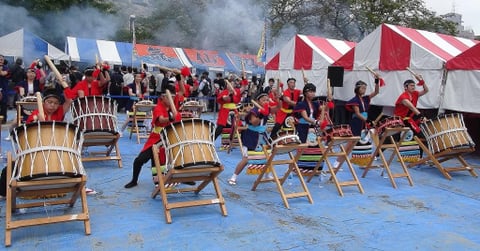 It has been 7 years since the Meguro SUN Festival has been inviting Elementary school students from Kesennuma City. The students have been engaged in supporting the recovery of the Great Eastern Japan Earthquake, by showcasing Japanese traditional arts. We have continued getting lots of local support, although the country has seen many natural disasters over the past few months. We are eternally thankful for all the support and continue to pray for all the effected areas.
Members of the Tora Mai Preservation Society include those who came to the area as volunteers and decided to settle as locals. The performers were greatly appreciated by the audience for the passionate percussion and the courageous dance performance.
- written by Takako Hayashi (Publication) and translated by Mikiko Takeda
ENGLISH Short NEW's (july 2018)
1:ENGLISH Short NEW's (july 2018)
Meguro UNESCO Lecture Series "Thinking about the Essence of Culture
"
Sponsor: Meguro Board of Education Organizer: NPO Meguro UNESCO Association
Lecturer: Noriaki Sagara (President of Meguro UNESCO Association)
Date: 13:30-15:30 Sat., 24th March 2018 Place: Seishonen Plaza 6F (Nakameguro Square)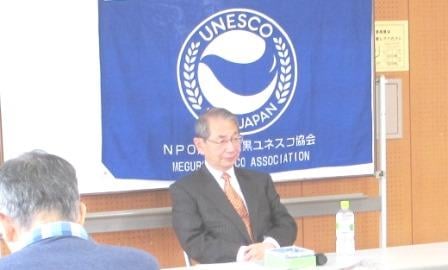 What is culture? Professor Sagara quoted the definition by the linguist Haruhiko Kindaichi: "Just as each person has a unique personality, so does a society. The unique personality of a society is called culture." He added that culture has no superiority or inferiority. Also, culture is not something we are born with, but rather something we develop. He also brought up another question: do animals, like humans, have a culture? We learned that Cultural Anthropologists around the world are now researching monkeys at Kyoto University's Wildlife Research Center, located on Koshima Island, Miyazaki Prefecture. There, many years ago, a monkey was observed washing a sweet potato with sea water. This behavior spread to the other monkeys, and continues even today. There are different opinions as to whether animals can have culture.
What about cultural identity? Westerners, for instance, criticize whaling by the Japanese as barbarous, but there is actually no clear answer to why whaling is barbarous, and fox hunting is not. There are no universal rules to govern the relativity of cultures. What is dangerous, Prof. Sagara noted, is that this can be a source of conflict when morals and values from different societies are incompatible. The lecturer concluded with the remark that if we all understand and respect the culture of others, the people in the world will naturally aim for peace.
- written by Mineko Yamada (Publicity)
and translated by Mikiko Takeda
Reports and Thanks for the Used Postcard Collection Campaign in 2017
Sponsor: NPO Meguro UNESCO Association
Joint sponsorship: National Federation of UNESCO Associations in Japan
Supporters: Meguro Board of Education and Meguro International Friendship Association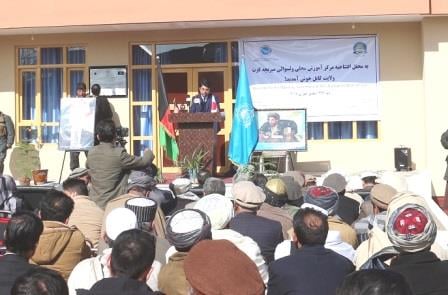 Every year, at the time of New Year when New Year's cards are exchanged, the "World Terakoya (School) Action: Used Postcard Collection Campaign" is conducted by the Japan UNESCO Association Federation. Again, this year, the Meguro UNESCO Association carried out the campaign supported by Meguro Ward, Board of Education in Meguro and MIFA.A total of 7,638 postcards were collected this year from elementary and junior high schools and individuals in Meguro. We even received postcards from a junior high school in Iga city in distant Shiga Prefecture. The postcards will be exchanged for stamps at the post office and will be used for the construction of schools in developing countries through the Japan UNESCO Association Federation. It is said that one in six people in the world cannot read or write. Constructing a place of learning could make big dreams and new hopes for such people. I think that it is one of the most important activities of the Meguro UNESCO Association to know that there are people still having various problems in the world and to support them. I hope to continue receiving your assistance.I wish to thank those who offered postcards and also the volunteers who collected the postcards and counted them during the cold weather. Thank you very much for your cooperation.
- written by Mitsuko Kato and translated
by Cris Mizue
Photo: School opening ceremony in Afghanistan
Meguro UNESCO Concert 2018
The annual Meguro UNESCO Concert at Meguro Persimmon Hall was held on 27th May 2018, and a trio performance of Nobuya Sugawa, saxophone, Ai Okumura, violin, and Minako Koyanagi, piano, was a huge success. The ensemble was talented, and the saxophone played by Nobuya Sugawa, a globally successful saxophone player, particularly charmed the audience.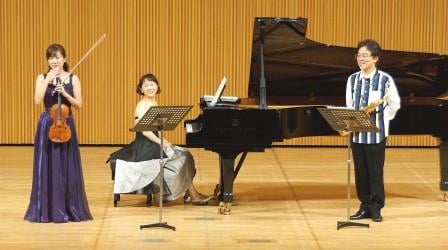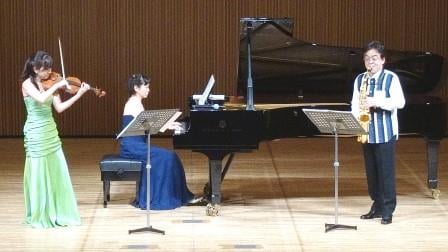 ---