Japanese Language Class
The Meguro UNESCO Association carries out various activities in order to foster mutual understanding and friendship among people in the world. The MEGURO UNESCO JAPANESE LANGUAGE CLASS is one of these activities, which is aiming at not only helping foreigners learn Japanese language,but also providing all those living, working or studying in Meguro City with opportunities to mutually understand and respect each other's culture. World peace can be realized only by international understanding and co-operation, as stipulated in the Constitution of UNESCO.
---
2019 Autumn Term
We are at the venue only during the day/time of our lessons.
★The application for Autumn term will be accepted from August 1st,2019.
(Please use the application form below. * If you have not received our confirmation reply, there is a possibility that your filter settings might be rejecting our email)
Morning Course
Term
10:00 a.m. ~ 11:45 a.m. every Tue.& Thu.(twice a week)
Sept. 10 ~ Dec. 12 (exc. Oct. 22)
Place

From Sept.10 to Sept.28, Meguro School Support Center(3-6-10, Nakameguro, Meguro-ku) [No parking lot]

From Oct. 1 to Dec.14, Midorigaoka Cultural Hall(2-14-23, Midorigaoka, Meguro-ku) [No parking lot]

Notice: Class for complete beginners of Morning Class will be held atSakura Plaza (2-4-18,Chuo-cho,Meguro-ku) [No parking lot]
*Please check our special program " Learning Japanese for The First Time".



Cost
Tuition will be 8100 yen for 27 lessons. Textbooks cost extra.
Tuition fee per term. If you enroll in the middle of term, above amount will be deducted per lesson basis.
Sat.Course
Term
10:00 a.m. ~ 11:45 a.m. every Sat.
Sept. 14 ~ Dec. 14(exc. Nov. 23)
Place

From Sept.7 to Sept.28, Meguro School Support Center(3-6-10, Nakameguro, Meguro-ku) [No parking lot]

From Oct. 5 to Dec.14, Midorigaoka Cultural Hall(2-14-23, Midorigaoka, Meguro-ku)[No parking lot]

Cost
Tuition will be 3900 yen for 13 lessons. Textbooks cost extra.
Tuition fee per term. If you enroll in the middle of term, above amount will be deducted per lesson basis.
Evening Course
Term
6:30p.m. ~ 8:15p.m. every Tue.
Sept. 10 ~ Dec. 10 (exc. Oct.22)
Place

Gohongi Elementary School

(2-24-3, Gohongi, Meguro-ku)[No parking lot]
Cost

Tuition will be 3900 yen for 13 lessons. Textbooks cost extra.
Tuition fee per term. If you enroll in the middle of term, above amount will be deducted per lesson basis. (No class for upper beginners(B&C-class) in Evening Course)
---
Level

Beginners ~ Intermediate class (Morning & Saturday Course). No class for upper beginners(B & C-class) in Evening Course. Kanji Class (Saturday only)

Participants
Non-native speakers of Japanese aged 16 or over(Attendance with children is not allowed)
Instructor
Instructors, who are the members of Meguro UNESCO Association, have been trained in teaching Japanese, and work on a voluntary basis.
Application

CLICK HERE
At the venue on day of class

If you enroll for the first time at our Japanese Class, please contact us in advance with your name,nationality, e-mail address,address with postal code and phone number by fax or e-mail.




★Please notice that we might not accept if participants exceed 15 people for each class.

Further Information
Ms. Yuko Yoshitake  Tel & Fax: 03-3717-7418
Ms. Rieko Fujisaki Tel & Fax: 03-5430-5952
E-mail
meguro@unesco.or.jp
Organizer
NPO Meguro UNESCO Association
Co-organizer
Meguro City Board of Education
Meguro School Support Center(Morning & Saturday Course)
10 minutes' walk from Nakameguro Station
---
Midorigaoka Culture Center
10 minutes' walk from jiyugaoka Station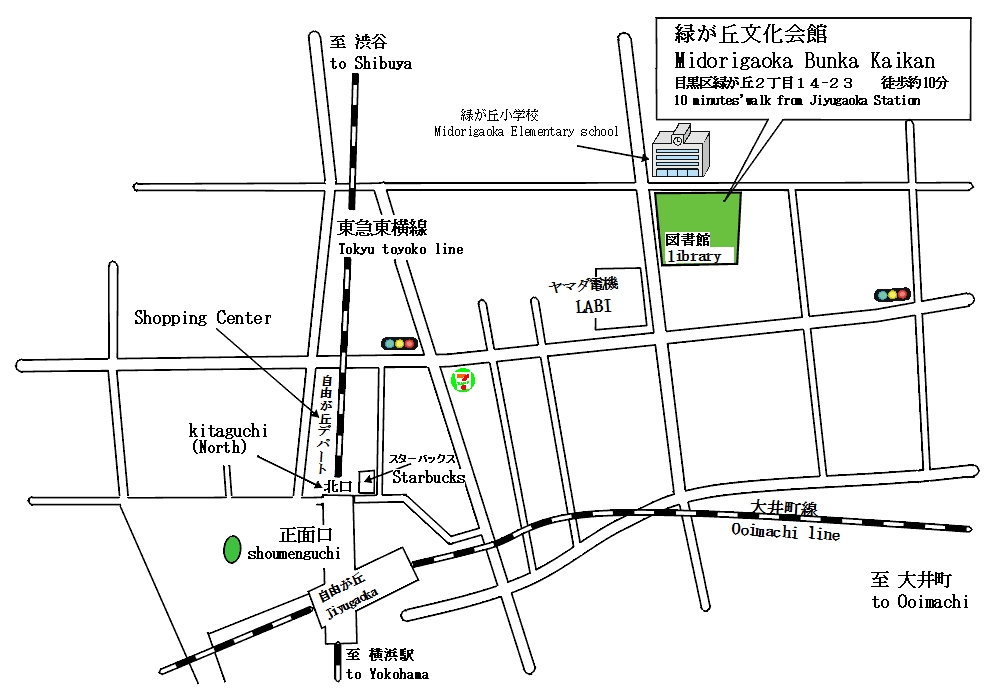 Gohongi Elementary School(Evening Course)
8 minutes' walk from Yutenji Station